Fire eating and fire breathing are two of the most dangerous and potentially lethal acts performed.

Experimenting without knowledge may be fatal!
For further details please call 07971 409977 at any time or e-mail
The Mother of all Parties
Another year on and I was back with
Sarah and Paul
for their
Dead Wedding Party
in
Chelmsford. Essex
Some pictures of The Firebreather and this time from
The Dead Wedding Party on Saturday 27th October 2012 in Essex
Stunning large and spectacular flames to warm the crowd.
The Fire Breather resting in his coffin before the show.
The Dead Bride and Groom
My Little Mate in a cage cos he bites
Me dead in my coffin
Here are some pictures of Fire Breathing at the Dead Wedding Halloween Party in Chelmsford, Essex
with some interesting shaped flames on Saturday 29th October 2011.
Thank you Doug Falconer for your most excellent photos.
A thank you e-mail arrived with the pictures and reads as follows
Hi Richard and Linda,

Thank you for coming to our party on Saturday, it was brilliant that you were both there. Paul and I were really pleased that you were here and part of it and hope you both enjoyed it all. Our chef 'Pete the meat' told us that you enjoyed the food!!!

I'm still waiting for the photos from Julie but I have attached the ones I took and some of the people watching too! I will write you a testimonial and send it over with the other photos as soon as I get them.

Lots of Love
Sarah and Paul as seen on the picture ( Left )
Here are some more pictures of Fire breathing
at a
Halloween Night in Battlesbridge, near Chelmsford, Essex
at the launch party of the newly designed shop for Props and Frocks
the fancy dress hire company on Monday 31st October 2011.
Hi Richard
I just wanted to say how grateful we are to you. Everyone was blown away by the fantastic fire breathing you did last night for our launch party. We are so thankful for everything you did to make our launch a success, you really have got many talents! I personally gave your number to two Party Planners, and a Wedding Planner.
We are currently updating our website, and when it does go live, there will be a page dedicated to the companies like yours who have helped us in making the Props & Frocks re-launch a true success. The production company are expecting on average 2.5 million viewers when the show is broadcast in early 2012 giving your company the exposure it really deserves.
Thank you once again, we will definitely recommend you and use you again.
Kindest Regards
Rhys @ Customer care, Props and Frocks, Unit 1, Rectory Lane, Battlesbridge, Essex SS11 7QR
Telephone: 01245 327156
www.propsandfrocks.co.uk
THE place for quality fancy dress and customer service!
At this event I was also Town Crier at Basildon in Essex where I was pleased to meet Alex Polizzi who is the niece of Sir Rocco Forte and better known as the Hotel Inspector from the TV series on Channel 5
Alex has been working with Props n Frocks as part of a new series to be screened early in 2012 and has been giving this well established and most excellent Party Dress Hire Company some even more useful ideas to help promote themselves.
They certainly get my vote as a great place to hire your costumes from for any type of occasion.
During the evening I was also the Master of Ceremonies and DJ and was pleased to share the occasion with some other most excellent artists, who I will be pleased to mention later.
And some more comments below from Props and Frocks
Richard Palmer – Toastmaster, DJ & Fire Breather (see image)
Richard is a multi talented entertainer. During the Basildon event Richard acted
as a professional toastmaster, introducing acts and keeping the event running smoothly. Back at the shop, as well as introducing acts, he set up his music system and working with Elton, & Richard they kept our guests entertained all night. And then, as his party piece he demonstrated his skills as a fire breather. What a true star!

Richard more usually works as a Toastmaster, Town Crier, Wedding DJ
and is a Sabrage Specialist for your wedding or party.
Sabrage is the art of opening a bottle of Champagne with a cavalry sword.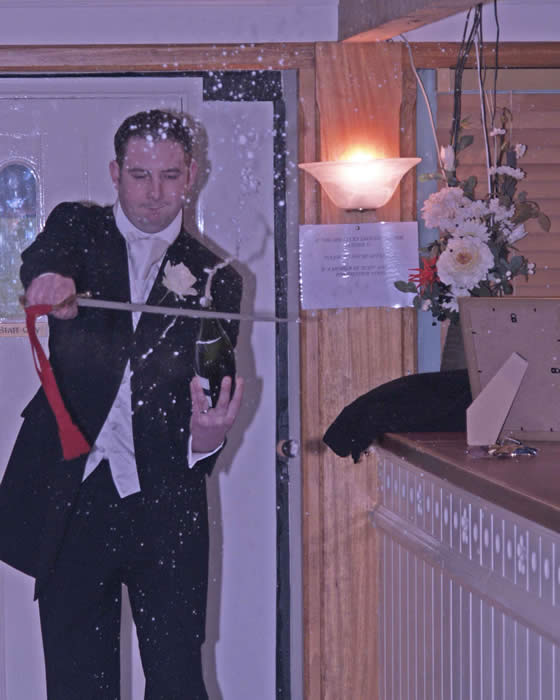 Here is Lloyd (the groom) opening a bottle of Champagne at his wedding to Clare on Saturday 28th May 2011 at Regiment Way Golf Club, near Chelmsford Essex. The guests seem to love this act as it is something different and may be quite spectacular. You may just see the cork with the anulus of the Champagne bottle flying through the air if you look just to the right of Lloyd's left hand. This spectacular act is great for photos but please make sure that you do not stand too close or in front of the bottle.
After the wedding breakfast and before the evening party I was also their Fire Breather to keep the guests entertained.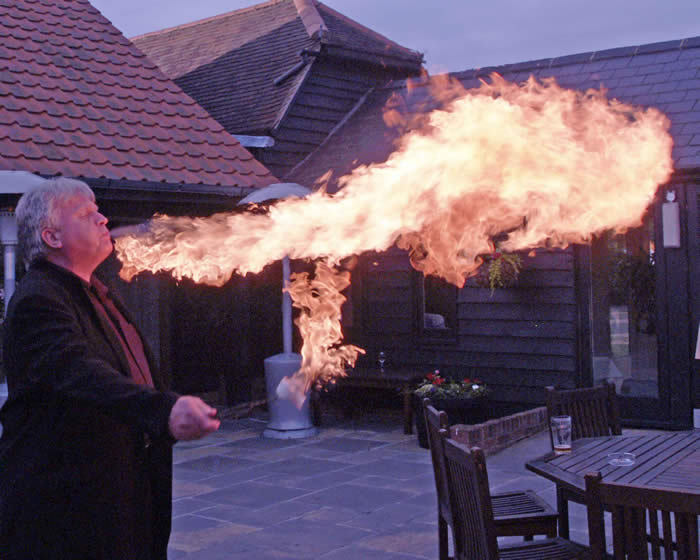 We also have sound and lighting equipment for hire and are quality suppliers
working to ISO 9001: 2008
Help the Heros - Spartan Races at Bassingbourn Barracks
( This is where I spent my 18th birthday with the 5th Royal Anglians ? years ago )
Spartan Races Cambridge (spartanrace.com) came to Basingbourn for a day-long competition beginning at 10am at the Army Training Regiment Bassingbourn Barracks, ROYSTON on September the 19th 2010. The competition was followed by post-race heroes bbq with activities and live music, feats of strength, Spartan Combat and much more.
Although the weather was rough, it was dryish but very windy. Not the best day for Essex based fire breather Richard Palmer to work his magic at the start of each race.
This festive event welcomed the public to come and support their favorite Spartans and enjoy the live entertainment. During the whole event the atmosphere was quite fantastic. Participants ran in all sorts of attire and although conditions could have been better, everyone seemed to enjoy the occasion.
The Spartan Race Series was conceived by Cambridgeshire resident Richard Lee (former Royal Marine) and Joe Desena of Pittsfield, VT USA, who is known as the uber-sports guru and mastermind of the now-infamous 24 hour Death Race held annually in Vermont.
Race organisers were pleased to welcome around a thousand racers who were prepared to brave a short 5 km, obstacle-strewn course that included, among other things, spear throwing, mud crawls, climbing 8-foot walls, fire jumping and battling Spartan gladiators.
This new international Spartan Race Series held its UK premiere this summer. Proceeds from the race will benefit the Help for Heroes Foundation.
This was the race day that revived the spirit of an adventurous age, The Spartan Races. The age of Sparta was a rugged time and the organisers call what they do Rugged racing. Spartans were the epitome of what these races stand for, being resolute in the face of danger, ingenious in battle, and tenacious amidst adversity..
The races were open to anyone brave enough to compete, and those who could laugh their way through adversity. There were racers from ages seven to sixty five. The races had something for everyone!
The race series that began in May in Vermont continue on an international circuit with events planned on a regular basis, aroud the world. Racers may register online as a solo participant £25 or in teams of 4 at spartanrace.com
This was not an extreme sporting event that would scare people away. It was about getting out of your comfort zone, having fun, getting down in the mud, and simply doing something exciting!
All this to help a very worth while charity. Help for Heros Foundation
20th September 2010 I have just received a thank you e-mail from Selica which reads as follows, - Hello Richard, A million thanks for your efforts today! I am glad you left with all your hair. We are in the process of calculating the amount raised, it's looking terrific. Speak shortly Selica ( I did manage to lose most of my eye lashes and eye brows with some singing to the front of my hair, but after a good soak and wash, I no longer smell so bad and the hair will grow back. ) The fluid for burning stinks and the smell sometimes lasts for days. So why do I do it? It is spectacular and there is a buzz!!!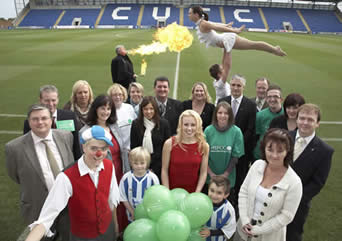 Now for something completely different -
Fire Breather for The NSPCC
At the English Toastmasters Association members meeting on Tuesday 21st October 2008, we discussed working for charities.
This is an odd ball in the way that I tackled it. I had a call from the NSPCC who needed help and fast. They wanted a fire breather to do a stunt at the Colchester United Football Club at 10.00am Friday 24th October.
Well, here is the photo of me in action. I'm the guy breathing fire at the back.
The two pictures on the left were taken by David, an excellent Essex Portrait Photographer at www.stourvalleyphotography.com Now where does this lead to.
If you feel that you may be able to help the NSPCC, please get in touch with Katie at kat pr consultancy
Just to prove that Katie is right about me in one of her comments, I have the picture of me in armour, although it was taken from my jousting days "a few years ago".
I have just had a lovely thank you letter from Katie at kat pr consultancy Which reads as follows;-
Richard is a knight in shining armour!
He stepped in at the last moment at what must have been a great inconvenience to himself - all in the aid of charity!
His help towards Colchester NSPCC has been amazing and he has a heart of gold.
His skills as a fire breather are just awe-inspiring and it creates something 'that little bit different' to any event - I can heartily recommend him and it will get and keep people talking about our event for much longer than they would do otherwise!
As a toastmaster he is perfection and his all round willingness to pitch in and help in any way possible is just more than you could ever wish for! Thank you from the NSPCC and Thank You from the Colchester Business Group and Thank You from me! Katie Skingle Chairwoman for the Colchester NSPCC Business Group